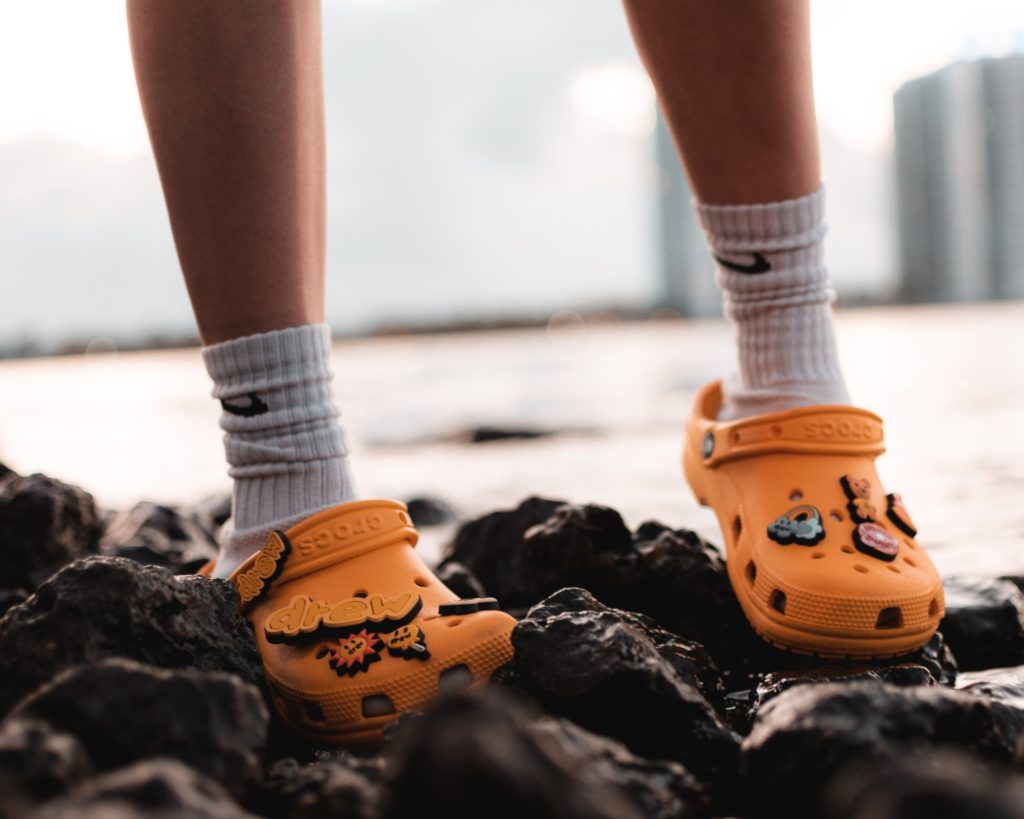 Crocs weren't created to be beautiful. 200 pairs of distinctively shaped, lightweight footwear were created for the 2001 Fort Lauderdale Boat Show. They sold out quickly. This was the brand's first step to superstardom. More than 720 million pairs of Crocs have been sold since then, and the company is enjoying its fourth straight year of impressive revenue growth. This despite the fact that the fashion world deemed Crocs hideous, one of mankind's worst inventions ever. How did this happen?
Know What Your Customers Love About You
Crocs may not be pretty, but they are durable, comfortable, and easy to clean. These characteristics, along with the shoe's iconic clunky silhouette, have remained a constant over the brand's 20+ year lifespan. Crocs fans are legion in part because the brand has identified what is important to their customer and then improved upon it.
Case in point: Croc's roomy fit and durable construction made them an early hit with people with diabetes, who often have foot problems. Knowing this, Crocs focused on creating specific styles for this audience, using guidance from medical professionals. Other styles were created for health care workers, who appreciated having comfortable shoes that could easily be hosed off after a messy day of work, but needed a solid top to protect their feet from any medical waste that might splatter or spill upon them.
Love means listening, and Crocs has demonstrated that they do that.
Focus on Keeping Things Fun
As part of their corporate values, Crocs promises to keep an open mind and look on the bright and colorful side. That's definitely been demonstrated in their product mix. While you can get basic white and black Crocs, the vast majority of Crocs offerings are boldly colored, distinctively patterned, or otherwise eye-catching. Crocs builds trust by delivering on its brand promise to be completely practical and totally goofy. Product options for men include Real-Tree Camo, Classic Tie Dye, styles matched to your Zodiac sign, and more.
Crocs also boosts the fun level of the brand through collaborations and limited editions created with pop celebrities and popular brands. The range of options is very impressive, including shoes inspired by the Grateful Dead and Post Malone, Kentucky Fried Chicken and Peeps, Vera Bradley, and Lightning McQueen from Cars. No matter what it takes to put a smile on your face, Crocs likely has a collaboration that covers it.
In fact, some of the most popular Crocs collaborations have a deliberately counterintuitive feel, such as the ongoing project with top fashion brand Balenciaga. Platform Crocs aren't for everyone, but for the people who pay attention to what runway models wear, they're certainly something.
Gilding the lily, in 2006, Crocs acquired Jibbitz, a company that made small fun charms people could use to personalize their shoes. Today, Jibbitz sales represent a sizable portion of revenue and have even been credited with the brand's strong performance during the pandemic.
Crocs' fun, expressive footwear makes their customers and other people smile. This positive emotional experience has resulted in a cohort of fanatically loyal Croc collectors. While the 'typical collector' may have a few dozen pairs to brag about, Doogie Lish Sandtiger is on a quest to have the world's largest collection – he has nearly 800 pairs!
Love Means Getting Close: Crocs Direct to Customer Experience
While Crocs are available via many high-quality retail outlets it's important to pay attention to Crocs' Direct-to-Customer shopping experience.
It's very easy for shoppers to quickly find the products that are meant for them, whether they're after that classic Crocs look or need a new pair of shoes for work. With special discounts for teachers, healthcare workers, and the military, Crocs effectively honors and recognizes an important portion of its customer base while simultaneously keeping the shopping experience cheerful and bright.
While working hard to maintain the love and trust of their core customer base, Crocs uses its website to effectively leverage the social media influencers they've been using to expand the brand's identity and grow market share. This is a smart way to keep customer experiences in alignment with expectations: the shopper who sees a pair of shoes on Instagram that they want will find those same shoes in the influencer's collection on the website.
Other features to pay attention to are the Crocs Club, the Say Hi feature that directs shoppers to the nearest brick and mortar retail location, and importantly, an opportunity for customers to have their own Crocs images included on the site. The invitation to and celebration of community gives Crocs brand Lovers an easy-to-access way to deepen their relationship with the brand.
Going Forward: Growth Based on Core Values
Crocs has conducted itself fairly consistently since the beginning. The focus has been on continually improving product quality and keeping the fun factor high. Over the years, strategic acquisitions and partnerships have helped Crocs achieve and maintain a High Trust/High Love position.
Crocs core audience includes teachers and health care workers. What professions would you identify as being part of your core audience? How do you recognize and honor these individuals?