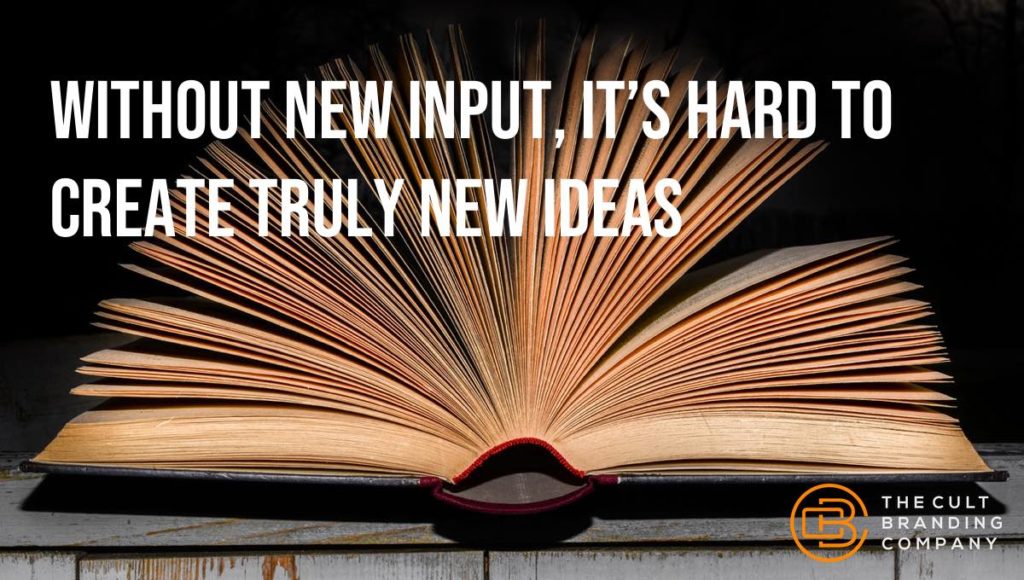 Without new input, it's hard to create truly new ideas, since you draw on the same bank of knowledge. Starting at my #10 and finishing on my #1, here is my list of the top 10 books I've read in the last few years that influenced my thinking about business the most:
"CLARITY IS KINDNESS!"
While she was a cook, Ellen Marie Bennett set out to make a better apron so cooks would be inspired by what they wear. Dream First, Details Later traces the early stages of her career to the current day, as she created the world-renown kitchen-gear company, Hedley & Bennett. This book offers the wisdom of an entrepreneur finding their way and encouraging all those that want to run their own business—or are already running it—to not hesitate, to dream what they want, and then figure out how to get it done along the way. 
"The transformative leader finds patterns in a situation and then takes action to generate new patterns, initiating a fresh and different order."
Influenced by the pandemic, in 2020 we dove deep into the literature and personal consulting experience and published a blog on how to navigate a crisis or any period of change. While researching the article, the most comprehensive book I found on crisis management was You're It. It's a bit academic, but all leaders are bound to face a period of change in their careers and this book offers great insight into how to manage it with case studies on how others have managed it too.
"Like books, sports give people a sense of having lived other lives, of taking part in other people's victories. And defeats. When sports are at their best, the spirit of the fan merges with the spirit of the athlete, and in that convergence, in that transference, is the oneness that the mystics talk about."
In Shoe Dog, Phil Knight takes readers on a wild ride through his youth into building Nike into the powerhouse it has become. Phil Knight faced a constant barrage of obstacles in building Nike and this autobiography provides inspiration on overcoming any obstacle you may face. 
"There is compelling evidence suggesting that we are poor judges of our own leadership skills when it comes to meetings. Namely, we have an inflated view of our skills."
One of the biggest complaints I hear—and I'm sure you do too if you work in a large organization—is how much time is wasted in meetings. In The Surprising Science of Meetings, Steven G Rogelberg examines meetings through the lens of the academic literature and offers a guidebook on how to improve meetings (and to know when to cancel them). Anyone responsible for creating and running meetings would benefit from reading this book.
"But here is the great paradox of gathering: There are so many good reasons for coming together that often we don't know precisely why we are doing so. You are not alone if you skip the first step in convening people meaningfully: committing to a bold, sharp purpose."
As humans, we gather together a lot. In The Art of Gathering, Priya Parker takes a look at how to organize and run important gatherings—whether it's a family gathering or a negotiation or a workshop—to provide maximum effect and meaning for all participants, making everyone feel they spent their time valuably. For anyone running events, this book is a great guide for making sure the event achieves its purpose—and has a clearly defined one in the first place.
"Big data tells us who people seem to be, but not who they really are; surveys tell us what they keep on their shelves, but not what they keep in their hearts."
There have been a lot of books published over the last few years about incorporating the dynamics of storytelling into creating powerful messaging. Storynomics is the most comprehensive book I've found on the subject. In the book, story-structure expert Robert McKee and marketer Tom Gerace examine the biological function of storytelling, the structure of storytelling for connecting with customers, and how that structure differs from more traditional examples of storytelling. Storynomics is a valuable read for anyone involved in customer insights or advertising. 
"Success is the product of daily habits—not once-in-a-lifetime transformations."
When we think of accomplishments, we tend to think of something big. We often forget or don't realize all the little steps it took to achieve something big. In Atomic Habits, James Clear offers a comprehensive guide to creating big change by just getting 1% better every day. This is the most comprehensive and practical book I've read on creating change by building new habits that stick. A great book for anyone that wants to create change in their life.
"Customers don't just adopt innovations; they alter them, adapt to them, and are changed by them."
Schrage builds on the work of Peter Drucker and Theodore Levitt and provides a great question all business leaders should ask themselves: who do you want your customers to become? Innovation changes customer behavior and companies can use those behaviors to not only make customers better customers of the brand but also more fulfilled people. This is a short and overlooked must-read for anyone in marketing. 
"Don't jump in telling answers until you know what the other person really needs to know. Don't assume that the person with the question has asked the right question."
Edgar Schein is arguably the GOAT of organizational consulting. In Humble Inquiry, I found a kindred spirit in Edgar Schein. He lays out his philosophy on how human interaction and problem-solving are improved by inquiry instead of just skipping to making assumptions and giving an answer based upon those assumptions. Schein has other books that elaborate on the concept of humble inquiry for specific contexts—Humble Leadership and Humble Consulting—and one that places humble inquiry into a larger context—Helping—but Humble Inquiry is the best introduction to the idea. A valuable read for anyone, especially leaders and managers.
"Every sports team needs a coach, and the best coaches make good teams great. The same goes in business: any company that wants to succeed in a time where technology has suffused every industry and most aspects of consumer life, where speed and innovation are paramount, must have team coaching as part of its culture. Coaching is the best way to mold effective people into powerful teams."
Outside of Silicon Valley, Bill Campbell was an unsung hero. Inside of Silicon Valley, Bill Campbell coached people like Larry Page and Steve Jobs. In Trillion Dollar Coach, ex and current Google leaders Eric Schmidt, Jonathan Rosenberg, and Alan Eagle reveal the wisdom of Bill Campbell that made him a sought-after executive coach and the secret sauce behind many of Silicon Valley's biggest companies. This book is an expert-level course in leadership, management, and coaching. But, at the same time, it's accessible to everyone. It takes my top spot and is a must-read for anyone in any leadership or management position.