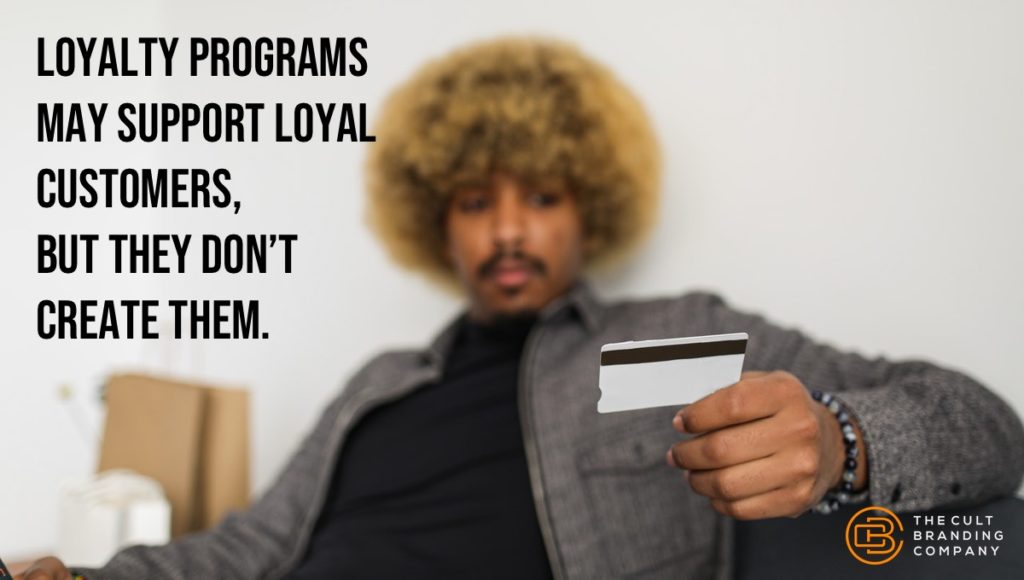 All brands want more loyal customers. The reasons are clear: more repeat business, more positive word of mouth, and greater customer lifetime value.
Customer loyalty for many national brands is in decline. Switching brands in the digital age is easier than ever before.
But, that's not the real reason loyalty is on the decline. More likely, loyalty didn't truly exist where many believed it did.
Many executives believe that loyalty programs (think branded credit cards or loyalty points) are a primary strategy for building loyalty. Although loyalty programs may support loyal customers, they certainly don't create them.
THow Cult Brands Win the Loyalty War
All major brands try to get their customers to be loyal to their brands. This should be called brand loyalty.
Cult Brands focus on being loyal to their customers. This should be distinguished as customer loyalty.
Do you see the difference?
Brand loyalty and customer loyalty are often used interchangeably, but they truly refer to two very different orientations.
Cult Brands focus on serving their customers; they earn their customers' loyalty by creating superior experiences for their customers. The more devoted an organization is to its customers, the more loyal its customers will likely be to the brand.
Loyalty is a result—a consequence—of better serving your customers than anyone else. You don't need to create new loyalty initiatives. Instead, you need to align your organization with the needs of your customers.
THow to Create a Customer-Centric Organization
But how? How do you align your organization with your customers? How do you inspire your people to want to build and grow the company around your customers?
You begin by adopting the right mindset.
You can't do it with a transactional mindset. With this mindset, your organization's focus is exclusively on making another sale. Promotions may drive sales for the next quarterly report, but they don't affect loyalty.
A relational mindset, in contrast, helps you appreciate the subjective state of your customers. Relationships are based on emotional connection. If you aren't connected with your customers on an emotional level, it's not possible to create loyalty.
A relational orientation toward your customers also helps you break free from the short-term focus on the financial markets. Loyalty doesn't follow a quarter-over-quarter agenda. Loyalty is a play for the long haul.
TFour Strategies for Fostering Customer Loyalty
Here are four strategies that can enable you to build an organization that creates loyal customers:
1. Cultivate a Humanistic Organization
That is, focus on the human element. Your employees are people. Your customers are people too. Start there. All of a sudden, principles like respect, dignity, and core values become relevant and meaningful.
A life-supporting work environment that promotes vibrant individuals takes center stage. Freedom, humor, trust, and mindfulness spontaneously become practical management discussions that can transform an organization.
2. Get to Know Your Best Customers
They are the lifeblood of your business. They are already the most fiercely loyal customers. In their eyes, you're already doing a lot right. You should learn about them and how they perceive you. It can clarify a great deal for you.
Talk to them, and above all, learn to listen. Customer insights about your existing Brand Lovers are perhaps the most powerful business assets that most chief executives never access.
3. Tap into Hidden Needs and Higher Values
This a secret of all world-class Cult Brands. Any business can meet a customer's basic human needs. It takes a special enterprise to dig deeper into the unrecognized higher-level needs of their customers.
And these organizations don't just do that for their customers, they support the higher-level needs of their employees too.
4. Find Ways to Serve Them Better Than Anyone Else
It takes a special kind of organizational culture to be able to exceed the expectation of today's demanding consumer.
A competitive marketplace challenges us to consistently look for ways to innovate and improve our products and services, to wow and delight our customers. Only a company with a thriving culture can play for loyalty—inside and outside the organization.
TThe Fruits of Loyalty
Loyalty is attainable. You can create a partnership with a special breed of customers: your Brand Lovers
And when you succeed, your business will join the ranks of an elite few who enjoy the fruits of this worthy endeavor that transcends "business as usual."
It is possible to create loyal customers, but not through conventional practices. It requires a different mindset and a special kind of organizational leadership.