Marketing thought leader BJ Bueno and CEO Dave Ratner reveal the advertising and marketing secrets for independent retailers at this year's NRF Big Show Convention & Expo.
New York City, NY (PRWEB) January 09, 2014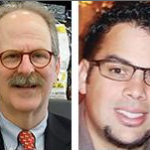 Where do independent retailers go to get inspiration and knowledge for growing their retail businesses? Thousands of independent retailers will be attending the 2014 National Retail Federation Conference and Expo at Jacob Javits Center in New York City from January 12th to the 15th.
Marketing speaker, author, and founder of The Cult Branding Company, BJ Bueno, will share the stage with President and CEO of Dave's Soda & Pet City, Dave Ratner, to illuminate the strategies and methods independent retailers can use to improve sales, customer loyalty, and profitability in their dynamic breakout session, "How to Advertise and Market Your Retail Business."
As a loyalty expert and marketing consultant to major retail brands like Kohl's Department Stores and Scheels, Bueno will share how focusing on your customer's wants and needs is the secret behind explosive market growth. "Independent retailers can compete with large big box retailers if they invest in better understanding their target customers and finding creative ways to better meet their needs," Bueno says.
A seasoned entrepreneur with almost four decades of retail experience, Ratner will share how independent retailers can use simple and cost effective methods to achieve consistent sales growth.
In this practical session, Bueno and Ratner will share the ten most effective ways to spend advertising dollars and how to create an amazing in-store retail experience that keep customers coming back.