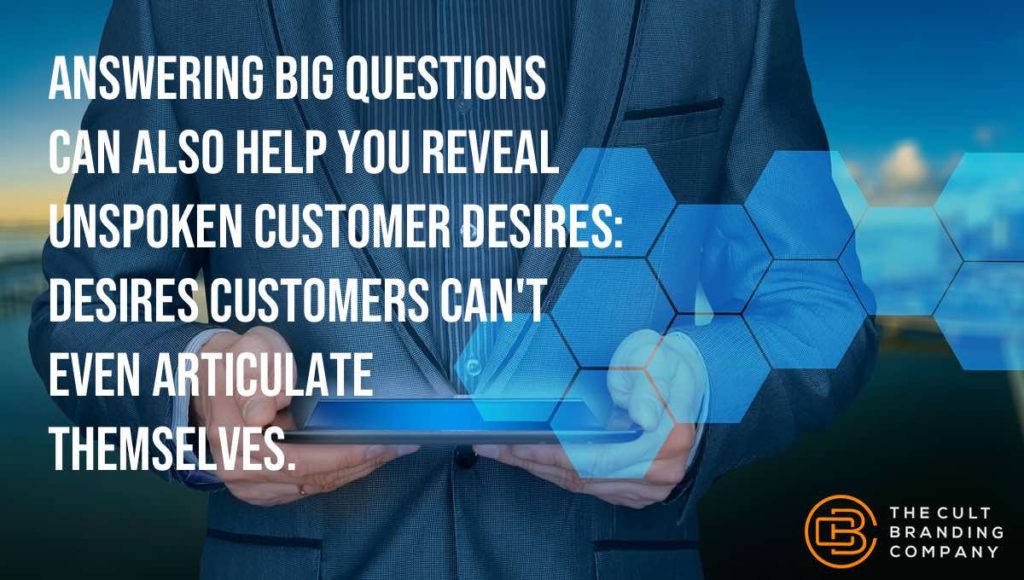 I'm continually struck by how often companies conduct research without asking any big questions.
Companies conducting research tend to ask a lot of questions with the belief that, from the mountain of data, they'll be able to find a big answer.
But,, what they usually end up with is just a bunch of data that gets read in a report and then tucked away in a drawer that houses piles of past research efforts. If they're lucky—and it usually is more luck than intent—they'll glean one or two pieces of information that they can see themselves possibly applying, someday.
Data doesn't reveal answers, questions do. To conduct effective research, you have to start by asking the big questions and then using research questions to attack those big questions from multiple angles. And, those big questions have to target something that can create action.
Knowledge is only power if it can be transformed into action.
Asking The Big Questions
Research that can't be turned into action wastes time and money. Company time is wasted conducting the research and then spending countless hours digging through the data to try and find the secrets within. Customer time is wasted because customers spend time answering surveys in the hopes that their answers will create change in the company, which it rarely does. And, finally, company money is wasted because the research rarely results in actionable results.
Even if you get some useful answers from a survey just by asking a lot of questions, you're likely to wish that you asked a few other questions that clarified what you found in the data.
This is why you need to start with the big questions before you create survey questions. 
Determining the big questions to ask isn't easy. It takes time. But, it makes the end result more effective and saves time and money in the long run.
The difficulty of asking the big questions is one of the reasons why demographic research is popular: demographics are easy to accumulate without asking any big questions as they're based on numerical, census-style, generic questions, and they generate obvious answers: what groups are we serving and what groups aren't we serving. The inevitable result is that we need more of some age and economic group. These are poor questions, not big ones.
As Einstein said, if he had an hour to save the planet, he'd spend 59 minutes coming up with the question that needs to be answered, and 1 minute solving it. Marketers I'd guess would spend 1 minute coming up with the question and then 59 minutes solving it, only to determine that it requires annihilating all males in the 30-40 age group as they're polluting the planet the most.
The Danger of Easy Questions
Many years ago I was sitting on a bench at Rittenhouse Square in Philadelphia when a man approached me and asked if he could ask me a few questions. He showed me the trailer to National Treasure 2: Book of Secrets and asked me questions concerning my age, what I thought of the actors and director involved, would I see it in the theater, and what age group I thought would be most likely to see the movie. I told him I had no intention of seeing it in the theater but that I thought the most likely group to see the film was my age group. He looked puzzled: how could I not want to see the movie but think it's most appropriate for my age group?
Think about it for a second: If a friend asks you whether or not you think he would like a comedy that just came out, would you say to yourself: "Well, he's between the ages of 30 and 40, male, earns $50,000 a year, Hispanic, single, heterosexual, and lives in the Midwest, so I don't think he'd like it." Or, would you think about the type of humor he likes, what other movies you know he likes and make your recommendation based on the way you see him as a person, instead of numbers?
If you didn't bother to collect the proper information to solve the real problem, you'll inevitably end up with a bad answer, unless by chance you happen to capture what you need.
The only way to be sure to collect the proper information is to start with big questions.
Down The Garden Path
When you ask big questions, you're forced to translate it into multiple questions that tackle the problem from several angles. Big questions potentially have multi-dimensional answers; they are unlikely to be answered by a single data point.
In fact, single data points can lead you down a garden path.
Imagine a hypothetical, underperforming lawnmower manufacturer is trying to decide what percentages of red and green lawnmowers they should ship to Lowe's. They analyze last year's data and see that nine green lawnmowers sold for every red one. The company changes it's production to make 90% of their lawnmowers for Lowe's green and 10% red. When it came time to look at sales, hardly any of their lawnmowers sold.
Repeated statistical analyses show no cause for the increase in sales of red lawnmowers. The company hires a consumer insight firm to discover what went wrong. The firm looks at the Lowe's stores and the purchasing decisions of Lowe's customers. Looking at the stores, the firm finds that the previous year Lowe's displayed green lawnmowers at the front of the store. But, this year there wasn't a display at the front of the store. When asking the customers what color they wanted their lawnmower to be most customers answered red. But when the insight firm showed customers different colors and asked them to select their favorite lawnmower color from the group, 80% said orange—a color no lawnmower company was making. The next year the company released a slew of orange lawnmowers and outsold all other lawnmower makers in the Lowe's stores.
Analyzing the manufacturer's data would never have revealed anything. Sense was created from nonsense by coming up with questions to ask that answered a bigger question about customer behavior.
Before you start gathering data, ask yourself what you really want from the data and plan accordingly. If you don't, your conclusions, if you have them, are in danger of providing inaccurate results.
Existing Data ≠ Hidden Desires
Answering big questions can also help you reveal unspoken customer desires: desires customers couldn't even articulate themselves.
In a 2004 talk for the TED conference, Malcolm Gladwell spoke about his friend Howard Moskowitz, an experimental psychologist and president of Moskowitz Jacobs, Inc., a consumer insights research firm. Moskowitz conducted research for Prego to discover the best type of tomato sauce. His research was influenced heavily by a study he conducted years before for Diet Pepsi: how much aspartame should be added to the mix to create the ideal Diet Pepsi. The Diet Pepsi experiment was inconclusive; the data was all over the place. Years later Moskowitz made sense of the data. There isn't an ideal Pepsi; there are only ideal Pepsis. In other words, there should be multiple categories. It's this thinking that he took to Prego and resulted in the creation of the much-beloved category of chunky tomato sauce.
Just because a lot of data is out there doesn't mean anyone has ever collected the relevant data. This is exactly what Howard Moskowitz discovered with tomato sauce: no focus group from Ragu or Prego ever came up with the idea of chunky tomato sauce as a type of sauce they would like until they were given the option. And no amount of data would reveal the observation that green lawnmowers were displayed at the front of the store the year before.
Only by understanding the customers can we give them what they want. On their own, they don't know. This has been a guiding force for Steve Jobs at Apple: "You can't just ask customers what they want and then try to give that to them. By the time you get it built, they'll want something new. … If we'd given customers what they said they wanted, we'd have built a computer they have been happy with a year after we spoke to them—not something they want now."1
Observation and questioning gives us insight into what customers want. Statistical analysis only shows what they're doing and is best used as a check and balance system to make sure the observations you made and the questions you asked were the right ones. Don't let anyone try to fool you into believing it's the other way around.
Big Questions, Big Answers
Too often research is conducted just because companies believe it should be done. In our consulting work, I've watched companies spend immense sums of money on research that didn't tell them anything they didn't know before. And, I've watched companies spend immense sums of money creating reports that didn't translate into any action. Both could be corrected by starting with big questions before thinking about the questions that get asked in the survey.
When designing customer insights research, you need to start by brainstorming one or a few big questions you want to answer. And, then spend time brainstorming multiple questions you can use to attack those big questions from multiple angles. Just using the questions that are currently popular in market research is unlikely to answer the questions that are unique to your company.
_______________________
Bo Burlingham, "The Entrepreneur of the Decade: An interview with Steven Jobs, Inc.'s Entrepreneur of the Decade, Inc. Magazine, 1989. ↩