Certified Cult Brand
We have tracked businesses with unprecedented brand loyalty since 2001. A Certified Cult Brand is a designation we hold for brands that fulfill specific market criteria, including upholding the Seven Rules of Cult Brands.
Apple Quick Stats
Founders: Steve Jobs, Steve Wozniak, Ronald Wayne
Founded: Established on April 1, 1976 in Cupertino, California by Steve Jobs, Steve Wozniak, and Ronald Wayne, to sell the Apple I personal computer kit.
iPhone: Apple sold approximately 41,000,000 iPhones worldwide from October 2007 up to the end of 2009 according to market research firm Canalys.
App Store: Over 3 billion applications have been downloaded from the App Store.
Bigger than Microsoft: in May 2010 Apple's market cap exceeded that of competitor Microsoft for the first time since 1989
Apple Cult Brand Summary
Apple Computers is the epitome of self-empowerment and self-fulfillment combined in one brand. How else to describe a Cult Brand whose original slogan for the Macintosh was, "the computer for the rest of us"? Of course, "the rest of us" were those brave individuals who wanted to control their own destinies and break free of the system's controlling grip and authoritarian ways. In the eighties, Apple painted this dark controlling force as being IBM, while in the nineties it became Microsoft and Bill Gates. As Christopher Escher, former VP of Corporation Communications, noted: "They turned computers, which are essentially a product for business people to crunch numbers with, into symbols of self-realization and liberation against social constraints."
In the mid-nineties, things were looking pretty grim for Apple. The company was steadily losing money, it lacked strong leadership at the top, and the firm's overall share of the PC market was continuing to slip. While Apple continued to have millions of loyal customers around the world, it endured this period thinking that any day a large competitor would buy it out, or that it would fail outright. Then, after more than a decade away from Apple, Steve Jobs came back as interim CEO in 1997. Jobs, through a savvy combination of internal cost-cutting, revamped marketing, and new product launches, turned Apple around.
In 2001, Apple announced the launch of the sleekly designed iPod. While not the first digital music player, the market lacked quality and was absent of any standout devices. Apple focused on the small size of the device, ease of use, and the sleek design, and transformed it into the digital music player by which all others are now measured. After the launch of iTunes, the digital download service, in April 2003, Apple started its now famous ad campaign with silhouetted figures rocking out to tunes. These ads injected a human element into a market that focused solely on the boring technological aspects of the devices. Apple realized that people don't just want to carry music, they want to jam out to songs that reflect their personalities.
This attention to what customers want—form, ease of use, and individuality—has paid off more than anyone could have ever guessed. To date, Apple has sold over 42 million iPods, and passed over 1 billion downloads on iTunes. In the first fiscal quarter of 2006, Apple reported sales of over 14 million iPods, leading them to $565 million in revenue.
In 2007 Apple brought their sleek design into a new market. Apple released the iPhone and a whole new world of customers was open to them. Consumers went wild for the new phone, which is no surprise considering Apple spent years perfecting easy to use interface for their customers. As of September, 2010 Apple had sold a total of 73.7 million iPhones worldwide, generating $45.6 billion in revenue.
Along with the iPhone Apple introduced the Apple App store, a fast new way for customers to purchase software from developers without having to drive to the store. The Apple App store opened on July 2008 with 500 apps and 0 downloads. By January 2011 there were over 400,000 apps and 10 billion downloads.
Apple doesn't just build products, they build products that their faithful want. And, they have a variety of interesting ways of preaching and listening to the choir. For starters, Apple hosts a User Group University at Macworld expo where leaders from Mac User Groups—those essentially independent clubs started by Apple aficionados—meet with each other for a full day of workshops and conversations about Apple's latest products. Apple showers all attendees with free logo merchandise, as well as employee discounts at the company store. Not only does Apple come away with invaluable feedback from a great group of customers, but it reenergizes the key faithful. Apple also asks individuals who run successful Mac User Groups in their communities to participate and to help Apple work with less successful user groups in the region. They continually gather feedback for Apple and look for Mac success stories to share. By following this game plan, Apple is able to give its customers the product enhancements they really want instead of guessing what the whims of the customers might be.
Apple Timeline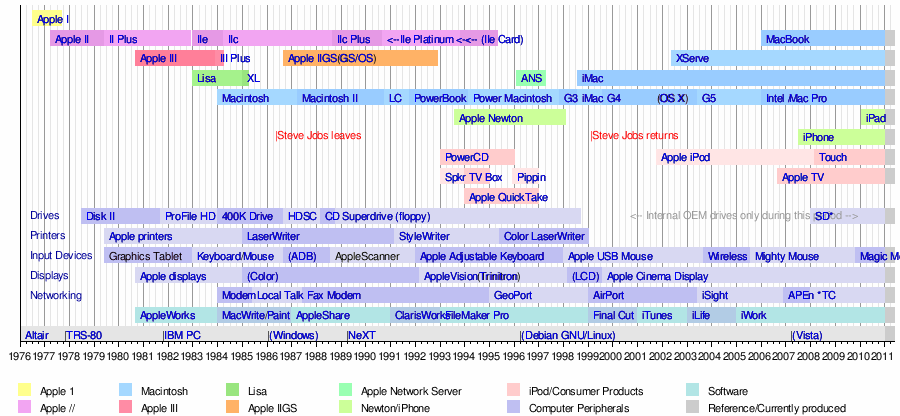 Timeline of Apple products (image from Wikipedia).
April 1, 1976 – Apple Computers was established in Cupertino, California by Steve Jobs, Steve Wozniak, and Ronald Wayne
July, 1976 – Apple I went on sale
January 3, 1977 – Apple was incorporated
December 1979 – Steve Jobs and other Apple employees visit Xerox. Jobs is convinced that all future computers would use a graphical user interface (GUI)
1983 – Lisa personal computer is released. First personal computer sold to the public with a GUI
1984 – Apple launches the Macintosh computer along with their famous Super Bowl Ad "1984" (link to commercial on youtube)
1985 – Steve Jobs resigns from Apple and founds NeXT Inc.
1991 – System 7 a major upgrade to the operating system was released. The upgrade added color interface and introduced networking capabilities. It remained the architectural basis until 2001.
1994 – Apple allied with IBM and Motorolla to create the PowerMacintosh which used IBM's Power PC processor
1996 – Apple acquires NeXT Inc. and its NeXTSTEP operating system, bringing Steve Jobs back to Apple as an advisor.
July 1997 – In the Macworld Expo Steve Jobs announces business relationship with Microsoft and brings Microsoft Office to the Macintosh.
November 1997 – Apple introduces the Apple store.
August 1998 – Apple introduces the iMac an all-in-one computer reminiscent of the Macintosh. It sells 800,000 units in the first five months.
1999 – Apple release iMovie and Final Cut Pro. Professional media editing software
March 2001 – Mac OsX is released. The operating system combined the stability, reliability and security of Unix with an easy to use interface.
May 2001 – First official Apple retail stores open in California and Virginia
October 2001 – iPod is debuted and changes the digital music market forever.
2003 – iTunes music store is introduced allowing customers to purchase digital songs for their iPods at $0.99 a song. The service quickly became the market leader in online music services, with over 5 billion downloads by June 19, 2008.
2005 – Apple announces they will use Intel Processors.
2006 – MacBook Pro and iMac became the first Apple computers to use Intel's Core Duo CPU. By 2007 all Apple products have Intel processors
January 2007 – Apple introduces the iPhone, the iTouch and Apple T.V.
July 2008 – The App Store is introduced for the iPhone to sell third party apps directly to customers.
October 2008 – Apple becomes the third-largest mobile handset supplier in the world due to the popularity of the iPhone.
April 2010 – The iPad is launched in the US and sells more than 300,000 units that day and reaches 500,000 by the end of the first week
May 2010 – Apple's market cap exceeded that of competitor Microsoft for the first time since 1989.