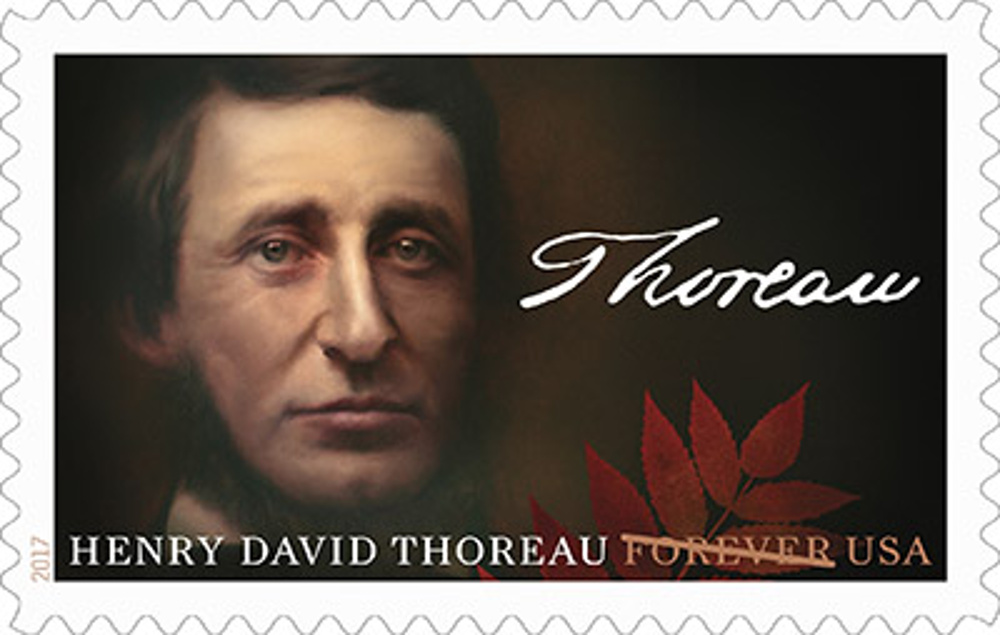 Go confidently in the direction of your dreams. Live the life you have imagined.
Our life is frittered away by detail… simplify, simplify.
Things do not change; we change.
This world is but a canvas to our imagination.
It's not what you look at that matters, it's what you see.
The U.S. Postal Service celebrates writer, philosopher, and naturalist Henry David Thoreau (July 12, 1817 – May 6, 1862) on the bicentennial year of his birth. The stamp art is an oil-on-panel painting of Thoreau's face based on a famous 1856 daguerreotype by Benjamin Maxham. On the right side of the stamp is Thoreau's signature of his last name. Below the signature is a branch of sumac leaves.
With Thoreau's personal example of simple living, his criticism of materialism, and the timeless questions he raises about the place of the individual in society and humanity's role in the natural world, he continues to inspire new generations to assert their independence, reinterpret his legacy, and ask challenging questions of their own. Sam Weber of Brooklyn, NY, was the stamp artist. Art director Greg Breeding of Charlottesville, VA, designed the stamp.